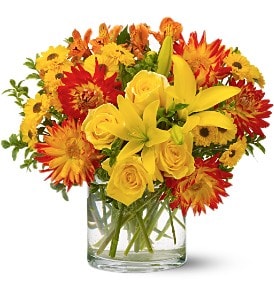 Flower Delivery Dupont Pennsylvania
Robin Hill Florist delivers flowers to Dupont, Pennsylvania every day. We also deliver to all Dupont hospitals, churches and funeral homes.
About Dupont PA
Dupont is a small borough located in the Greater Pittston area. It's near the city of Wilkes-Barre and, as of 2000, has a population of almost 3,000. In the past, the borough relied heavily on the coal mining industry. Later, due to advancements in mining technology, many citizens began commuting to other cities for work.
City of Dupont
Dupont Pennsylvania Wikipedia
Yelp Active Life in Dupont
Dupont's History
Originally, the town of Dupont was named Smithville after the leaders of the first group of settlers. Smithville was a small Polish town whose inhabitants mainly focused on working the local mines. Later, after the Dupont Explosives company opened, the town's name was officially changed to Dupont. Later, after the company's explosives were no longer needed in the mining industry, the company closed.
Florist in Dupont PA
Robin Hill Florist was formed in 1957 in a closet-sized storefront in New York City's Hell's Kitchen. The current owners worked in the store during high school and took it over in 1994, and the shop moved to Pennsylvania three years later. The Robin Hill philosophy is to provide their customers with the freshest and highest quality flowers possible. At Robin Hill Florist, we pledge to bring the spirit of the garden to you. You've never seen flowers like ours.
Flower Delivery to all Dupont Area Hospitals:
Geisinger Medical Group
57 N Main St,
Pittston, PA 18640
(570) 654-0880
Moses Taylor Patient Center
315 S Main St,
Old Forge, PA 18518
(570) 457-8838
Continuous Care Inc
162 N Main St,
Old Forge, PA 18518
(570) 457-6311
Flowers Delivered to These Dupont Churches
Church of Jesus Christ of LDS
215 Lackawanna Ave,
Dupont, PA 18641
(570) 654-4740
St John's Primitive Methodist
316 Main St,
Avoca, PA 18641
(570) 457-8281
Bethel United Methodist Church
532 Main St,
Avoca, PA 18641
(570) 457-2566
St Mary's R C Church
719 Hawthorne St
Avoca, PA 18641
570) 457-7994
Sympathy & Funeral Flowers Delivered to these Dupont PA Funeral Homes
Stephen M Lokuta Funeral Home
200 Wyoming Ave,
Dupont, PA 18641
(570) 654-1533
Lisa Lokuta Zawacki Funeral Hm
200 Wyoming Ave,
Dupont, PA 18641
(570) 654-1533
Kniffen O'malley Funeral Home Inc
728 Main St,
Avoca, PA 18641
(570) 457-2801
Kiesinger Funeral Services
255 Mcalpine St,
Duryea, PA 18642
(570) 457-4387
Local Zip Code Flower Delivery in Dupont PA
18641
Florist Dupont PA
Dupont PA Florist
Flower Delivery in Dupont PA
Local Florist Dupont Pennsylvania