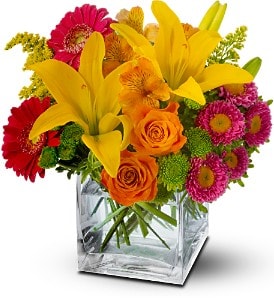 Flower Delivery Duryea Pennsylvania
Robin Hill Florist delivers flowers to Duryea, Pennsylvania every day. We also deliver to all Duryea hospitals, churches and funeral homes.
About Duryea PA
Duryea sits on the Lackawanna River about nine miles south of the larger city of Scranton. The borough is famous for being incredibly independent, although that changed somewhat once the coal industry became less important. Today, a number of companies operate plants in the area. A number of freight trains and shipping trucks also operate out of Pittston Yard.
City of Duryea
Duryea Pennsylvania Wikipedia
Yelp Active Life in Duryea
Duryea's History
Historically, Duryea was known for its coal mines and silk mill. It was first incorporated in 1891 during the coal boom. However, the borough was largely abandoned after coal was replaced as a source of energy. Today, a number of coal mines can be found near and even under the town. A sand and gravel quarry is also located nearby.
Florist in Duryea PA
Robin Hill Florist was formed in 1957 in a closet-sized storefront in New York City's Hell's Kitchen. The current owners worked in the store during high school and took it over in 1994, and the shop moved to Pennsylvania three years later. The Robin Hill philosophy is to provide their customers with the freshest and highest quality flowers possible. At Robin Hill Florist, we pledge to bring the spirit of the garden to you. You've never seen flowers like ours.
Flower Delivery to all Duryea Area Hospitals:
Moses Taylor Patient Ctr
315 S Main St
Old Forge, PA 18518
(570) 457-8838
Continuous Care Inc
162 N Main St
Old Forge, PA 18518
(570) 457-6311

Moses Taylor Hospital
121 Adams Ave
Scranton, PA 18503
(570) 340-2700
Flowers Delivered to These Duryea Churches
Full Gospel Church
1113 Main St
Avoca, PA 18641
(570) 457-5042
Langcliffe Presbyterian Church & Cemetary
1001 Main St
Avoca, PA 18641
(570) 457-4477
Saints Peter & Paul Church
912 Vine St
Avoca, PA 18641
(570) 457-2483
St Mary's R C Church
715 Hawthorne St
Avoca, PA 18641
(570) 457-3412
Sympathy & Funeral Flowers Delivered to these Duryea PA Funeral Homes
Ruane & Regan Funeral Home
1308 Grove St
Avoca, PA 18641
(570) 457-6549

Kniffen O'malley Funeral Home
728 Main St
Avoca, PA 18641
(570) 457-2801

Kiesinger Funeral Services
255 Mcalpine St
Duryea, PA 18642
(570) 457-4387

Stephen M Lokuta Funeral Home
200 Wyoming Ave
Dupont, PA 18641
(570) 654-1533
Local Zip Code Flower Delivery in Duryea PA
18642
Florist Duryea PA
Duryea PA Florist
Flower Delivery in Duryea PA
Local Florist Duryea Pennsylvania