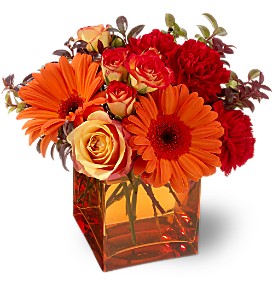 Flower Delivery Luzerne Pennsylvania
Robin Hill Florist delivers flowers to Luzerne, Pennsylvania every day. We also deliver to all Luzerne hospitals, churches and funeral homes.
About Luzerne PA
Luzerne, PA, is located in the northeastern part of the state near Wilkes Barre. While the town once boosted over 7,000 people, many left following the collapse of the coal industry. Today, the population is around 3,000.
City of Luzerne
Luzerne Pennsylvania Wikipedia
Yelp Active Life in Luzerne
Luzerne's History
Luzerne, like many of the settlements in northeastern Pennsylvania, was once very dependent on the coal industry. During the early 1900s, the borough was home to coal mining, drilling, silk mills, and a canning factory. Today, many commute to nearly cities for work.
Florist in Luzerne PA
Robin Hill Florist was formed in 1957 in a closet-sized storefront in New York City's Hell's Kitchen. The current owners worked in the store during high school and took it over in 1994, and the shop moved to Pennsylvania three years later. The Robin Hill philosophy is to provide their customers with the freshest and highest quality flowers possible. At Robin Hill Florist, we pledge to bring the spirit of the garden to you. You've never seen flowers like ours.
Flower Delivery to all Luzerne Area Hospitals:
First Hospital Wyoming Valley
562 Wyoming Ave
Kingston, PA 18704
(570) 552-3900
562 Wyoming Ave
Kingston, PA 18704
(570) 552-3700

Wyoming Valley Health Care
575 N River St
Wilkes Barre, PA 18764
(570) 829-8111
Flowers Delivered to These Luzerne Churches
Luzerne Assembly of God Church
649 Bennett St
Luzerne, PA 18709
(570) 338-2415

Bennett Presbyterian Church
501 Bennett St
Luzerne, PA 18709
(570) 288-7361
Luzerne United Methodist Church
440 Bennett St
Luzerne, PA 18709
(570) 287-6231
Courtdale United Methodist
225 Courtdale Ave
Kingston, PA 18704
(570) 288-5710
Sympathy & Funeral Flowers Delivered to these Luzerne PA Funeral Homes
Betz-Jastremski Funeral Home Inc
568 Bennett St
Luzerne, PA 18709
(570) 287-0293

Lehman & Gregory Funeral Home Inc
281 Chapel St
Kingston, PA 18704
(570) 288-5176
Strish George A Funeral Home
269 Bennett St
Luzerne, PA 18709
(570) 283-0111
Kopicki A J Funeral Home Inc
266 Zerby Ave
Kingston, PA 18704
(570) 288-5540
Local Zip Code Flower Delivery in Luzerne PA
18709
Florist Luzerne PA
Luzerne PA Florist
Flower Delivery in Luzerne PA
Local Florist Luzerne Pennsylvania