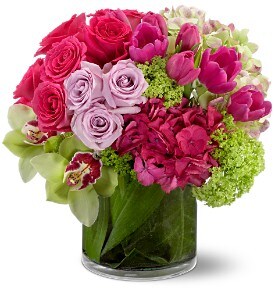 Flower Delivery Mountain Top Pennsylvania
Robin Hill Florist delivers flowers to Mountain Top, Pennsylvania every day. We also deliver to all Mountain Top hospitals, churches and funeral homes.
About Mountain Top PA
Mountain Top, PA, is a census-designated place located in Luzerne County. It is made up of a number of different townships and boroughs. Mountain Top is located north of White Haven and south of Wilkes-Barre.
City of Mountain Top
Mountain Top Pennsylvania Wikipedia
Yelp Active Life in Mountain Top
Mountain Top's History
Mountain Top has seen a number of notable odd disasters over the years. It was hit by a tornado in December of 2006, the first tornado to hit the state of Pennsylvania in December. The tornado damaged a number of homes and businesses. The following year, in 2007, the WNEP-TV transmission tower collapsed, destroying the transmitter building. Fortunately, no one was injured, although several of the nearby transmission towers suffered some damage.
Florist in Mountain Top PA
Robin Hill Florist was formed in 1957 in a closet-sized storefront in New York City's Hell's Kitchen. The current owners worked in the store during high school and took it over in 1994, and the shop moved to Pennsylvania three years later. The Robin Hill philosophy is to provide their customers with the freshest and highest quality flowers possible. At Robin Hill Florist, we pledge to bring the spirit of the garden to you. You've never seen flowers like ours.
Flower Delivery to all Mountain Top Area Hospitals:
V A Medical Center-Wilkes-Barre
1111 E End Blvd,
Wilkes Barre, PA 18711
(570) 824-3521

Wyoming Valley Health Care
575 N River St,
Wilkes Barre, PA 18764
(570) 552-5300

Mercy Special Care Hospital
128 W Washington St,
Nanticoke, PA 18634
(570) 735-5000

Wilkes-Barre General Hospital
2a Poplar St,
Kingston, PA 18704
(570) 829-8111
Flowers Delivered to These Mountain Top Churches
Mountain Top Presbyterian Church
9 Chestnut St,
Mountain Top, PA 18707
(570) 474-9951

Christ United Methodist Church
175 S Main Rd,
Mountain Top, PA 18707
(570) 474-6060
St Paul's Lutheran Church
316 S Mountain Blvd,
Mountain Top, PA 18707
(570) 474-6616

Wilkes-Barre Church Of Christ
563 Mott St,
Sugar Notch, PA 18706
(570) 825-6757

Ashley Presbyterian Church
32 N Main St,
Ashley, PA 18706
(570) 826-1367

Rock Church Faith Center
60 Charles St,
Hanover Township, PA 18706
(570) 829-6530
Sympathy & Funeral Flowers Delivered to these Mountain Top PA Funeral Homes
McCune Funeral Home
80 S Mountain Blvd,
Mountain Top, PA 18707
(570) 474-6541

George A Strish Inc Funeral Home
105 N Main St,
Ashley, PA 18706
(570) 822-8575
Desiderio Funeral Home Inc
436 S Mountain Blvd,
Mountain Top, PA 18707
(570) 474-9800

Leo P Lehman Funeral Home
689 Hazle St,
Wilkes Barre, PA 18702
(570) 822-4634

Mamary-Durkin Funeral Services
59 Parrish St,
Wilkes Barre, PA 18702
(570) 824-4601
Local Zip Code Flower Delivery in Mountain Top PA
18707
Florist Mountain Top PA
Mountain Top PA Florist
Flower Delivery in Mountain Top PA
Local Florist Mountain Top Pennsylvania