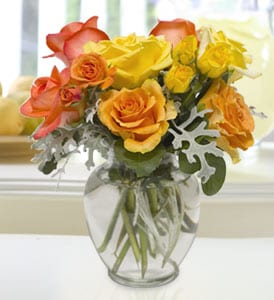 Flower Delivery Old Forge Pennsylvania
Robin Hill Florist delivers flowers to Old Forge, Pennsylvania every day. We also deliver to all Old Forge hospitals, churches and funeral homes.
About Old Forge PA
.The borough of Old Forge is located in Lackawanna County in Pennsylvania. One of the biggest draws of the city is its pizza, and there are a number of different restaurants in the area.
City of Old Forge
Old Forge Pennsylvania Wikipedia
Yelp Active Life in Old Forge
Old Forge's History
The borough of Iron Forge was founded in 1789 when Dr. William Smith settled in the area. Later, during the 1820s, a stagecoach inn was built in Iron Forge, and the borough got its first post office in 1848. The area was officially designated a township in 1871, and in 1899, it was incorporated as a borough.
Florist in Old Forge PA
Robin Hill Florist was formed in 1957 in a closet-sized storefront in New York City's Hell's Kitchen. The current owners worked in the store during high school and took it over in 1994, and the shop moved to Pennsylvania three years later. The Robin Hill philosophy is to provide their customers with the freshest and highest quality flowers possible. At Robin Hill Florist, we pledge to bring the spirit of the garden to you. You've never seen flowers like ours.
Flower Delivery to all Old Forge Area Hospitals:
Community Medical Center
1800 Mulberry St,
Scranton, PA 18510
(570) 969-8000

Mercy Hospital
746 Jefferson Ave,
Scranton, PA 18510
(570) 348-7100

Moses Taylor Hospital
700 Quincy Ave,
Scranton, PA 18510
(570) 340-2100

Allied Rehab Hospital
475 Morgan Hwy,
Scranton, PA 18508
(570) 348-1300
Flowers Delivered to These Old Forge Churches
Word Fellowship Church
100 S Main St,
Old Forge, PA 18518
(570) 457-5054

Stewart Memorial United Church
174 N Main St,
Old Forge, PA 18518
(570) 457-1109

St Mary's Church
123 W Grace St,
Old Forge, PA 18518
(570) 457-5900

New Covenant Fellowship
258 N Main St,
Taylor, PA 18517
(570) 562-3950

New Life Assembly Of God
418 W Mary St,
Old Forge, PA 18518
(570) 457-7577

St Stephen's Russian Orthodox
641 Hickory St,
Old Forge, PA 18518
(570) 457-3384

Olive Branch Bible Church
255 S Keyser Ave,
Old Forge, PA 18518
(570) 562-3998
Sympathy & Funeral Flowers Delivered to these Old Forge PA Funeral Homes
Louis V Ciuccio Funeral Home
145 Moosic Rd,
Old Forge, PA 18518
(570) 457-2071

Victor M Ferri Funeral Home
522 Fallon St,
Old Forge, PA 18518
(570) 457-4321

Palermo & Zawacki Funeral Home
409 N Main St,
Old Forge, PA 18518
(570) 562-1901

Thomas P Kearney Funeral Homes
517 N Main St,
Old Forge, PA 18518
(570) 562-1590

Jacob Davis Funeral Home
422 S Main St,
Taylor, PA 18517
(570) 562-1300

Local Zip Code Flower Delivery in Old Forge PA
18518
Florist Old Forge PA
Old Forge PA Florist
Flower Delivery in Old Forge PA
Local Florist Old Forge Pennsylvania