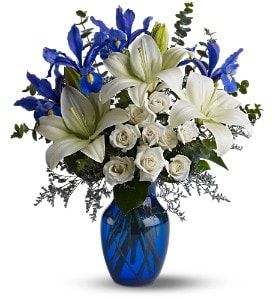 Flower Delivery Pittston Pennsylvania
Robin Hill Florist delivers flowers to Pittston, Pennsylvania every day. We also deliver to all Pittston hospitals, churches and funeral homes.
About Pittston PA
Pittston, PA, is located between Scranton and Wilkes-Barre in Luzerne County. This small city is home to the Pittston Tomato Festival and has been called teh Quality Tomato Capital of the World.
City of Pittston
Pittston Pennsylvania Wikipedia
Yelp Active Life in Pittston
Pittston's History
Pittston was settled in 1770, although the original settlement was called Pittstown. The city was the site of a fort during the Revolutionary War, and the area went back and forth between colonial and British control. Pittston itself was officially formed as a borough in 1856 after it broke off from Pittston Township following its expansion during the 1830s. The coal industry became very important to Pittston during the 1850s, although it would soon be replaced by the railroad as the city's main source of employment..
Florist in Pittston PA
Robin Hill Florist was formed in 1957 in a closet-sized storefront in New York City's Hell's Kitchen. The current owners worked in the store during high school and took it over in 1994, and the shop moved to Pennsylvania three years later. The Robin Hill philosophy is to provide their customers with the freshest and highest quality flowers possible. At Robin Hill Florist, we pledge to bring the spirit of the garden to you. You've never seen flowers like ours.
Flower Delivery to all Pittston Area Hospitals:
V A Medical Center-Wilkes-Barre
1111 E End Blvd,
Wilkes Barre, PA 18711
(570) 824-3521

Wyoming Valley Health Care
575 N River St,
Wilkes Barre, PA 18764
(570) 552-5300

Wilkes-Barre General Hospital
575 N River St,
Wilkes Barre, PA 18764
(570) 829-8111
Flowers Delivered to These Pittston Churches
First Baptist Church
Water St,
Pittston, PA 18640
(570) 654-0283
St John Evangelist Church
35 William St,
Pittston, PA 18640
(570) 654-0053

United Methodist Church
Broad & Church St,
Pittston, PA 18640
(570) 655-4340

Grace Bible Church
317 Race St,
West Pittston, PA 18643
(570) 654-9877

First Presbyterian Church
115 Exeter Ave,
West Pittston, PA 18643
(570) 654-8121

Our Lady Of Mt Carmel Church
237 William St,
Pittston, PA 18640
(570) 654-6902
Sympathy & Funeral Flowers Delivered to these Pittston PA Funeral Homes
Peter J Adonizio Funeral Home
802 Susquehanna Ave,
West Pittston, PA 18643
(570) 654-8683

Kizis Lokuta Funeral Home
134 Church St,
Pittston, PA 18640
(570) 654-4271

Ruane & Regan Funeral Home
18 Kennedy St,
Pittston, PA 18640
(570) 654-2250

H Merritt Hughes Funeral Home
211 Luzerne Ave,
West Pittston, PA 18643
(570) 654-3471

Howell-Lussi Funeral Home
509 Wyoming Ave,
West Pittston, PA 18643
(570) 654-3741
Local Zip Code Flower Delivery in Pittston PA
18640, 18641, 18642, 18643, 18644
Florist Pittston PA
Pittston PA Florist
Flower Delivery in Pittston PA
Local Florist Pittston Pennsylvania