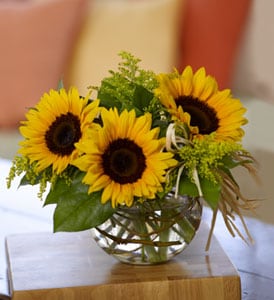 Flower Delivery Wilkes-Barre Pennsylvania
Robin Hill Florist delivers flowers to Wilkes-Barre, Pennsylvania every day. We also deliver to all Wilkes-Barre hospitals, churches and funeral homes.
About Wilkes-Barre PA
The county seat of Luzerne County, Wilkes-Barre is located in Northeastern Pennsylvania. THe city is a part of the Scranton-Wilkes-Barre Metropolitan Statistical Area. The city is bordered by the beautiful Pocono Mountains on the east and the Endless Mountains on the west.
City of Wilkes-Barre
Wilkes-Barre Pennsylvania Wikipedia
Yelp Active Life in Wilkes-Barre
Wilkes-Barre's History
Wilkes-Barre was originally home to the Delaware and Shawanese Indian tribes in the 1700s. However, John Durkee led a group of European settlers into the area in 1769. A settlement was soon established and named after John Wilkes and Isaac Barre, members of the British Parliament who backed the venture. When coal was discovered in the 1800s, the city's population expanded quickly. However, during the 20th century, coal was no longer a major fuel source, and many coal workers left the area. When Hurricane Agnes struck in 1972, the population further declined. However, rennovation plans and a huge 200th anniversary spectacular in 2006 have helped pull the city out of this slump.
Florist in Wilkes-Barre PA
Robin Hill Florist was formed in 1957 in a closet-sized storefront in New York City's Hell's Kitchen. The current owners worked in the store during high school and took it over in 1994, and the shop moved to Pennsylvania three years later. The Robin Hill philosophy is to provide their customers with the freshest and highest quality flowers possible. At Robin Hill Florist, we pledge to bring the spirit of the garden to you. You've never seen flowers like ours.
Flower Delivery to all Wilkes-Barre Area Hospitals:
Wilkes-Barre General Hospital
575 N River St,
Wilkes Barre, PA 18764
(570) 829-8111

First Hospital Wyoming Valley
562 Wyoming Ave,
Kingston, PA 18704
(570) 552-3900

V A Medical Center-Wilkes-Barre
1111 E End Blvd,
Wilkes Barre, PA 18711
(570) 824-3521

Mercy Wound Care Center
128 W Washington St,
Nanticoke, PA 18634
(570) 740-5280

Community Medical Center
1800 Mulberry St,
Scranton, PA 18510
(570) 969-8000
Flowers Delivered to These Wilkes Barre Churches
St Stephen's Episcopal Church
35 S Franklin St,
Wilkes Barre, PA 18701
(570) 825-6653

First Presbyterian Church
97 S Franklin St,
Wilkes Barre, PA 18701
(570) 824-2478

First Baptist Church
48 S River St,
Wilkes Barre, PA 18702
(570) 822-7482

St Mary's Church
134 S Washington St,
Wilkes Barre, PA 18701
(570) 823-4168

Good Shepherd Lutheran Church
190 S Main St,
Wilkes Barre, PA 18701
(570) 824-2991

Memorial Presbyterian Church
29 W North St,
Wilkes Barre, PA 18701
(570) 822-8826

Jehovah's Witnesses
72 W North St,
Wilkes Barre, PA 18701
(570) 823-3435

St Mark's Lutheran Church
56 S Hancock St,
Wilkes Barre, PA 18702
(570) 822-0892
Sympathy & Funeral Flowers Delivered to these Wilkes-Barre PA Funeral Homes
Sherbin Charles V Funeral Home
2 Lincoln Plz,
Wilkes Barre, PA 18702
(570) 829-2244

Lisman Funeral Home Inc
142 S Washington St, Wilkes Barre, PA 18701
(570) 824-3551

Robert Bednarski Funeral Home
27 Park Ave,
Wilkes Barre, PA 18702
(570) 823-2962

Straub Kane Funeral Home
55 Park Ave,
Wilkes Barre, PA 18702
(570) 823-6804

J ohn V Morris Funeral Home
281 E Northampton St,
Wilkes Barre, PA 18702
(570) 823-2754

Nat & Gawlas Funeral Home
89 Park Ave,
Wilkes Barre, PA 18702
(570) 825-3138

Local Zip Code Flower Delivery in Wilkes-Barre PA
18701, 18702, 18703, 18704, 18705, 18706, 18707, 18708, 18709, 18710, 18711, 18762, 18764, 18765, 18766, 18767, 18769, 18773
Florist Wilkes-Barre PA
Wilkes-Barre PA Florist
Flower Delivery in Wilkes-Barre PA
Local Florist Wilkes-Barre Pennsylvania