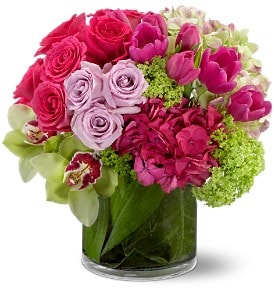 Flower Delivery Wyoming Pennsylvania
Robin Hill Florist delivers flowers to Wyoming, Pennsylvania every day. We also deliver to all Wyoming hospitals, churches and funeral homes.
About Wyoming PA
Located in the Greater Pittston area, Wyoming is a small borough with more than 3,000 residents. It is situated about five miles north of the large city of Wilkes-Barre, and the Susquehanna River runs near the borough. The coal mining industry was quite important to the people of Wyoming during the early 1900s.
City of Wyoming
Wyoming Pennsylvania Wikipedia
Yelp Active Life in Wyoming
Wyoming's History
The borough of Wyoming is named after Wyoming Valley, which was the site of a battle between the British and the Tories and Native American forces. The battle took place in 1778, and the town holds an annual memorial celebration each year to honor those who died in the Revolutionary War. The poem "Gertrude of Wyoming" by Thomas Campbell mentions the Wyoming Valley and, in fact, the poem was responsible for the state of Wyoming being named after Wyoming Valley.
Florist in Wyoming PA
Robin Hill Florist was formed in 1957 in a closet-sized storefront in New York City's Hell's Kitchen. The current owners worked in the store during high school and took it over in 1994, and the shop moved to Pennsylvania three years later. The Robin Hill philosophy is to provide their customers with the freshest and highest quality flowers possible. At Robin Hill Florist, we pledge to bring the spirit of the garden to you. You've never seen flowers like ours.
Flower Delivery to all Wyoming Area Hospitals:
First Hospital Wyoming Valley
562 Wyoming Ave
Kingston, PA 18704
(570) 552-3900
Nesbitt Memorial Medical Center
562 Wyoming Ave
Kingston, PA 18704
(570) 552-3700
Wyoming Valley Health Care
575 N River St
Wilkes Barre, PA 18764
(570) 829-8111
Flowers Delivered to These Wyoming Churches
First Baptist Church
52 E 8th St
Wyoming, PA 18644
(570) 693-1754
Wyoming United Methodist Church
376 Wyoming Ave
Wyoming, PA 18644
(570) 693-2821
Harding Church of Christ
25 Institute St
Wyoming, PA 18644
(570) 388-6534
Wyoming Presbyterian Church
25 Institute St
Wyoming, PA 18644
(570) 693-0594
Sympathy & Funeral Flowers Delivered to these Wyoming PA Funeral Homes
Bednarski Funeral Home & Monuments
168 Wyoming Ave
Wyoming, PA 18644
(570) 693-3851
Metcalfe & Shaver Funeral Home Inc
504 Wyoming Ave
Wyoming, PA 18644
(570) 693-1130
Howell-Lussi Funeral Home
509 Wyoming Ave
Wyoming, PA 18644
(570) 654-3741
Gubbiotti Funeral Home
1030 Wyoming Ave Frnt
Exeter, PA 18643
(570) 654-8931
Local Zip Code Flower Delivery in Wyoming PA
18644
Florist Wyoming PA
Wyoming PA Florist
Flower Delivery in Wyoming PA
Local Florist Wyoming Pennsylvania